ACTIVITIES
Speed Boat
Snorkel
Snuba
Catamarán
SCHEDULE
DAYS OF THE ACTIVITY
Tuesday to Saturday
The transportation will pass for you approximately 2 hours before your activity. Please be ready to avoid setback.
REQUERIMENTS
The minimum age is 8
The minimum age for driving the speed boat is 18+
RECOMMENDATIONS
No previous snorkeling or diving experience is necessary
Bring a towel, swimsuit, comfortable clothing, and sunscreen.
We recommend bringing cash or credit for souvenirs and additional services
PRICES
*Captain: This option is for those who prefer to drive their own boat.
The Sailing Splash activity will always be carried out with a companion even if you have not someone coming with you.
If you don't select a captain in your booking, you may:
- Be teamed with one of our available guides.
- Be teamed with another guest.
When booking an even number of participants, there will be one captain for every 2.
In case that the number of booked participants is an odd number, one of them will have to be assisted by one of our guides.
DESCRIPTION
Sailing Splash is a combined tour where you can enjoy all the beauty and wonders the Caribbean has to offer. Navigate the waters of the Bavaro-Punta Cana coast at great velocity on a speed boat to later explore the world under the surface with the help of a snorkel mask. You will experience the unforgettable natural landscape of the Bavaro coral reef and get the chance to discover what tropical marine life is all about.
WHAT TO EXPECT
3 hours of adrenaline and true enjoyment with a combo of accelerated emotions on the water's surface and a noise-free world where your breathing and the marine landscape are the only company you need in the sea at Punta Cana. In the ocean bed, you will find tropical fish and the endless beauty of the Caribbean.
WHY CHOOSE
If you love adventure, adrenaline, and the ocean, there are more than enough reasons to choose this tour: a beautiful reef, a ride on a speed boat, and the peaceful thrill of snorkeling. It is really an easy choice.
HIGHLIGHTS
A variety of unique, special, exciting, and unforgettable experiences and sensations, all in one. The Caribbean awaits to impress you with all its wonderful treasures.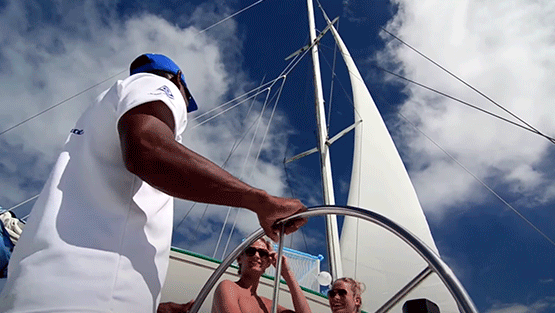 WHAT'S INCLUDED
Roundtrip transportation from your hotel
One or two-seater speedboat with a local guide
Lunch is on a water platform
EXTENDED INFORMATION
The tour begins at 11:30 on a beautiful catamaran sailboat to enjoy the sun and blue tones of the sea.
The speedboat can be navigated by one or two passengers. just take into account that if you want a one-person-only boat, you will only have to reserve as "Captain" at the time of reservation(you will find the option).
The speedboat can be single or double. You will sail along the beautiful beaches of Bavaro-Punta Cana where the sun, white sand, and tall palm trees make for the perfect view.
Once back on the boat, you will have plenty of time to relax and enjoy some complimentary drinks. After enough water and sun, you will sail back to the coast and be returned safe and happy to your Punta Cana hotel.
Lunch will be served on a lovely platform in the middle of the ocean, thus, even at the most relaxed part of your day, you will not miss a moment to admire the beautiful ocean view.
RESTRICTIONS
Tour not suitable for expectant mothers